If you want to add a channel subscription for a publication that is not included in our channel directory, you can do so if that site offers what is known as an RSS feed.
If you know that site's RSS feed address (or can inquire to the site's owner to get it), FaithTree can grab the site's recent headlines just like any other source in our database. For example, Little Hills Church, a FaithTree partner church, has its RSS feed at https://littlehills.church/safari/index.rss. Many sites link to their RSS feed using an orange RSS icon (
).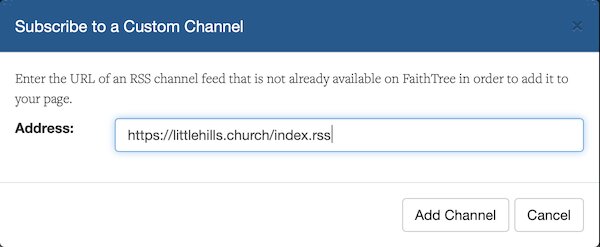 Once you have located the address of the site's RSS feed, go into the channel picker, click the "Add Channel" button and then click "Add Custom Channel." In the provided box, type or paste in the address of the publication's RSS feed and then click "Add Channel." to add the channel to your page.
You may not have encountered RSS before, but there are RSS feeds all over the web — in fact, if you've ever listened to a podcast, you've already used an RSS feed. For more information on what RSS is and how to find RSS feeds, Lifewire has a helpful explanation.
---