Both the Widget View and Feed Reader view display the different channels you choose to subscribe to. (Don't let the term "subscribe" scare you — all of those "subscriptions" are free.) These subscriptions are managed in the "Channel Picker," which can be launched from the "Personalize" menu. When you launch the Channel Picker, it will list the channels you are presently subscribed to, along with buttons to unsubscribe from channels or to create tags for them.
Additional channels can be added by clicking the "Add Channel" button located at the bottom of the box. The "Add Channels" box presents a variety of the channels available on FaithTree in different categories that can be selected in the drop down menu located at the top of the box. Some channels will have a green star next to them () indicating a FaithTree "Featured Channel" that we think is a meaningful part of using FaithTree. Others will display a gear icon (), which indicates a special kind of channel that will allow you to customize it, for example by providing a zip code for local weather.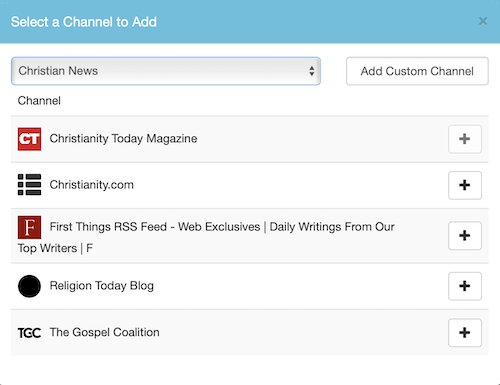 If you find a channel you would like to include in your page is not listed, you can add a custom channel.
---